Dear Friends,
Welcome to Spring, a peak season for home sales!

New Year's resolutions set in January have now mostly been abandoned – but the real time of renewal is here and it's almost always good news in terms of real estate activity.

As the days grow longer and the sun gets warmer, many of us take on the big indoor/outdoor cleanup. We do it for ourselves... and -- if we're looking to sell and move -- we do it for all those new home buyers cruising the neighbourhoods in search of showings and open houses, eager to put in a fast offer.

This month's feature article identifies this wave of highly motivated buyers as one of the Top 5 reasons homes sell best in the Spring. Check out the other four reasons. We're sure you'll be excited by what you read.

Whether you're looking for help during the next two or three months buying, selling or both, please don't hesitate to reach out.

I'm excited to work with you.

Active Listing
10042 92 ST NW NW, Riverdale $529,900

Build your dream home or make a great investment on an RF2 zoned property. This **SUPER-SIZED**flat, 50' x 182' lot gives you plenty of options. It's perfectly located half a block away from the community league and park on a beautifully tree lined street. This is a rare opportunity in this one of a kind neighborhood to turn an oasis of into your vision!
Coming soon....

Nestled in a quiet cul de sac and walking distance to some of the best schools in Edmonton, this Aspen Gardens gem is ready for a new family! This pie shaped lot would offer a great new build or put your fresh touch on this 1291 sq ft 3 bedroom bungalow. This will be on MLS soon but I am happy to take inquiries now as it won't last long!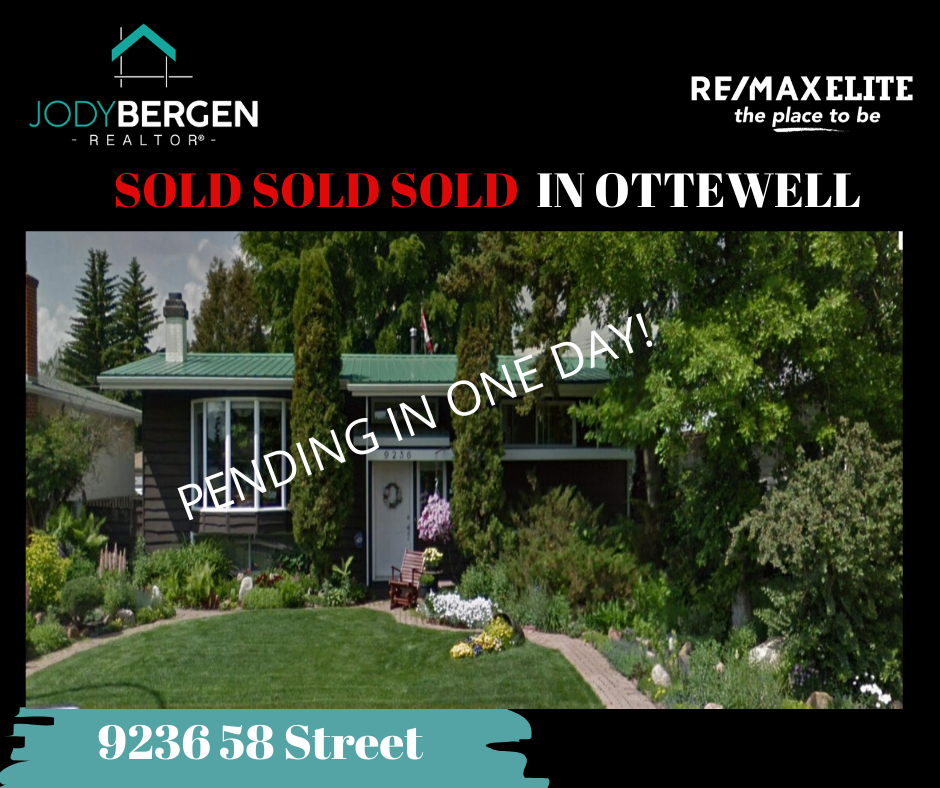 This beautiful home was sold in one day at 98% list price! With a market heating up and some great marketing and sales strategies this could be your home! If you are considering buying or selling in the near future I can help!
1. A wave of new buyers.

Spring brings an enormous wave of new buyers into the marketplace, looking for homes. These are both first-timers – many of them Millennials – and people re-sizing (either up or down as their families grow or the nest empties). They come out of hibernation on a Spring mission to upgrade their lifestyles, putting in long hours in the sunshine, looking for their next perfect home. If you've had your property on the market for a while, this makes it a whole new game and your best chance to close a sale. If you've been thinking of listing, price it right and do it now.

2. Homes show better.

With the extended daylight hours and warmer temperatures, snowbanks melt and the landscape gets greener. Because of this, homes simply "show better" in the Spring. To stage for the season, try adding flowerboxes and plants around your front entrance (see our next article for a grower's head-start). Without question, planters can make your home more appealing to prospects. Give your property a thorough Spring cleaning. Minimize clutter and let some of the outdoors into your home, if possible. Everything should look bright and fresh, including your chances for a sale.

3. Prices spike and often peak.

This could be because people get money back from Revenue Canada in April/May. It might be because they're more inclined to spend large sums of money during the invigorating Spring season of renewal. Or, most likely, it's because of the wave. With more people out looking for a home in the Spring, there's more competition for homes and a much greater sense of urgency. Heightened demand can lead to bidding wars that drive up prices.

4. Days on Market gets shorter.

As days get longer, time to sell gets shorter! Historically, homes sell faster during the Spring months than most other times of year. With more people out looking (and for more hours every day), they're often seeing each other at showings. To avoid being out-bid on "perfect homes," buyers tend to make their offers – and close on their purchases – faster in the Spring. Quick sales and higher sale prices tend to happen together at this time of year.

5. Moving is more fun.

If you have children in school, finding a new home in the Spring means you'll probably be moving into it after the school year ends. A move during the more leisurely days of summer is simply more relaxing. It can even be fun. Fall and winter moves, by contrast, can coincide with horrendous weather, making it a miserable proposition. And even though we have Spring blizzards in Western Canada, the snow usually melts quickly and moves are more manageable.
Is great access to the Edmonton International Airport important to you? Do you want to live near the edge of the city in an attractive, single-family home neighbourhood (about 10 percent is duplexes)?

If so, take a look at Rutherford in south Edmonton. This community, named after Alberta's first premier, Alexander Cameron Rutherford, used to be farmland. It will soon be surrounded on all sides by quality residential development, with easy access to Anthony Henday Drive (Edmonton's Ring Road) and Highway 2 (Queen Elizabeth II Highway, running south to Calgary).

Rutherford hasn't lost its connection to the natural habitat, preserving it with a series of tranquil parks -- including the Virginia Park Woodland -- that dot the neighborhood.

Rutherford is bounded on the west by 127 Street, on the east by James Mowatt Trail (111 Street), on the north by Ellerslie Road and on the south by Blackmud Creek Ravine, with a line connecting the ravine to 127 Street near 25 Avenue SW.
Whether you enjoy cannabis or not, its legalization in Canada has brought some great, new products to the marketplace. You can now buy hydrogardens, for example. They let you grow plants indoors, in a water solution with air bubbles and nutrients but no soil! The roots dangle in the water.

Available for retail purchase through many home improvement retailers, these small, hard-working systems can help you produce healthy, organic lettuce and other veggies and herbs year-round in your kitchen!

Or, if you'd prefer, you can watch beautiful flowers bloom inside your rooms while the Spring snow continues to fly outside the window.

Solutions include WIFI and Alexa connectivity as well as apps that run on your smart phone. Once you've selected a system, all you need is water, light, seeds and nutrients. Your plants will grow faster inside your home than in than traditional gardens (and without the bugs and dirt)!